At WIG, we're lucky enough to be part of vital cross-sector conversations daily, whether on climate change, infrastructure, the economy, talent development, or numerous other topics, our members need to get down to business - connecting and collaborating on some of the biggest issues impacting society today.
But you'll be surprised by how often we hear "I'm not sure what my organisation has in common with x; with that industry; or with that sector". In actual fact, we've found four themes with three fundamental questions within each - Strategy, Risk, Prioritisation and People. So, what does this mean for you and your organisation?
Well, firstly, ask yourself – are you having the right conversations internally, externally? Are you making the most of others' expertise? Do you know how to have the right conversations? If you answer no to any of these questions, then keep reading.
Breaking it down
Across all the sectors, 99% of conversations revolve around four points, which in-turn can be broken down into 12 sub-sets. Using these prompts can help you enhance the conversations you have with those outside of your area and identify those you should be having them with.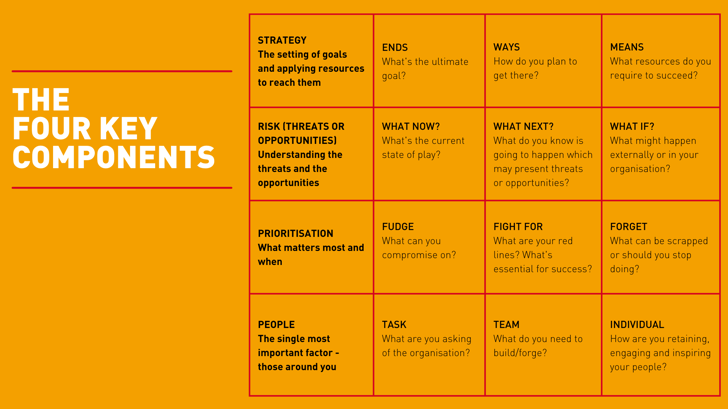 Strategy
Referring to a plan of action designed to achieve a long-term or overall aim. In short, this topic is broken down into the ENDS – ultimately, what your final goal is. The WAYS – your roadmap and how you're going to get to your goal. The MEANS – what resources you need, along your roadmap, to help you achieve your goal.
Risk (threats or opportunities)
Those unplanned events that could have a negative impact. But on the flip side, what opportunities are available to be exploited. When identifying risks or opportunities, it's important to think about: WHAT NOW? – what's currently going on that affects your organisation or project. WHAT NEXT? – anticipating what's to come and the threats or opportunities there. Finally, WHAT IF? – what are the external factors which could have an impact.
Prioritisation
The age-old challenge! Arranging items, actions, or activities in order of importance to your strategy. Getting to this point requires understanding what you're going to FUDGE – the things you can compromise on, "80% is better than nothing at all". What you're going to FIGHT FOR – these are the actions or activities which are critical to your organisation and its aims. Finally, the things you can FORGET – those things you can realistically stop doing.
People
They are the single most important part of an organisation and have the greatest impact on the success and failure of a business. Being able to understand the TASKS – the demands and requirements of the mission. The TEAM – where your strengths and gaps are, what kind of team and what skills you need to build to succeed and the INDIVIDUALS – how you're leading, engaging and retaining those around you, will all help you on the way to achieving your overall goal.
Strategy, Risk, Prioritisation and People in practice
Conversation overheard:
" It's been very difficult to deliver to our customers over the last 2 years, we have lost a lot of our reserves, and have had to think differently. There has been a lot of compromise, and it's taken a toll on the workforce".
Using the above example, we show you how WIG's four pillars of conversation in the boardroom can be applied.
On the left – what's behind the statement, and which categories within the four pillars does the statement fit into.
On the right – how these then link to the other outputs and the questions these can generate.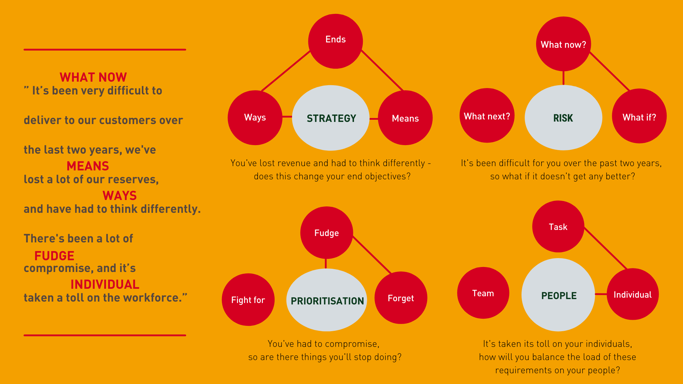 Can you start to see the links? When you start thinking about your conversations in the context of WIGs four pillars of conversation, it becomes clearer that whilst the tone varies across sectors, teams, departments, the language and questions remain the same.
Think about a time you had a conversation with someone in another department or another organisation, how could you have applied these concepts to help draw similarities and share solutions.  
Why having these conversations matters?
Now that we've looked at the how, what about the why? Well, no single organisation or individual has all the answers - the challenges the UK faces are bigger than one sector. We need the best intelligence at our disposal, to inform and be confident in our decision making as we tackle some of the biggest challenges we've ever faced. Cross-sector learning brings true diversity of ideas and cultivates curiosity, inclusivity and innovation.
A quote from a recent WIG event:
"The outputs of the workshop provided lots of food for thought on where we can shake up the status quo and consider more innovative approaches, including how to better draw upon and present the outstanding insights of our people, and pooling and presenting data across departments to support effective decision-making". - Permanent Secretary
Be part of the cross-sector conversations
As an independent, non-lobbying charity, WIG is best placed to make meaningful collaboration happen. Our mission is to share perspectives, ideas and build partnerships between the public, private and not-for-profit sectors. To help encourage open-minded conversations across sectors, we find creative ways to bring people together within our trusted environment.
Put our four topics of conversation into practice with: