Enhancing Your Leadership Presence Programme
Enhancing Your Leadership Presence is a four-month programme tailored specifically to the needs of senior leaders seeking to hone their personal brand and increase their impact for greater organisational effectiveness. It is a fact that leaders at senior levels can receive little constructive feedback around their overall leadership presence and this can result in a lack of development for them in this most essential area of leadership impact.
Each programme module covers a different aspect of leadership and communications, with expert speakers bringing perspectives from a range of sectors.  Participants are part of a small group of senior leaders working collaboratively to refine leadership style and develop effective communications skills.
Participants put their new skills into practice in front of critical friends and a panel of experts from the public, private and not-for-profit sectors - contributing to continuous development.
Each participant also benefits from two one-to-one coaching sessions tailored to their individual leadership impact needs.
Explore Enhancing Your Leadership Presence
Who is it for?
Are you looking to improve your impact and influence?   Do you want to develop your personal leadership brand?  Enhance Your Leadership Presence could be the programme for you.
This four-month programme will help you to understand your personal leadership style, develop your engagement skills and understand how to communicate with others with authenticity.
The programme is open to talented senior leaders working at director level in public, private and not-for-profit organisations, and central government.
How you'll benefit
Develop your personal leadership brand
Improve your communications and engagement skills for greater impact
Understand and build on your unique authentic leadership style
Grow your presentation and influencing skills at leadership level
Enquire today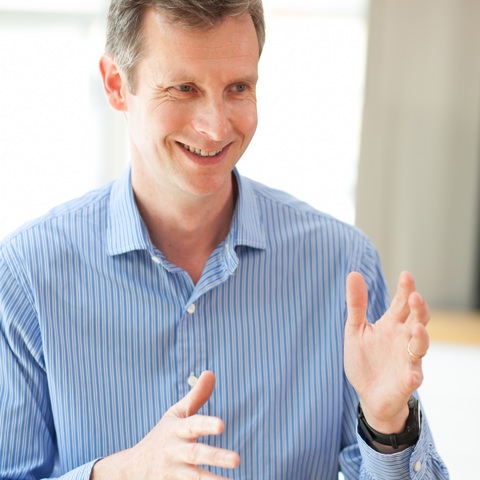 "Presence and impact are not just about a physical state. You can be calm and confident but not actually do anything. People who make a positive impact in the world have a purpose or an outcome. They know why they are there doing what they do and what they want to achieve."
David Willis
Course Facilitator
Why we're different: WIG's approach to leadership development
At the heart of all our programmes, WIG's leadership development framework sets out our values and approach to leadership and learning. Our aim is to encourage and enable the mindsets, actions and behaviours that leaders need in order to successfully navigate the complexities of 21st century leadership.
For nearly 40 years, we've been working collaboratively with public, private and not-for-profit organisations, helping leaders to gain cross-sector insight that enriches their personal and organisational performance.  That's what makes WIG's leadership development programmes different – a unique focus on cross-sector peer learning brings true diversity of ideas, encourages curiosity, openness and innovation and helps individuals and organisations to find inspiration and fresh ideas from others.
Our programmes complement an organisation's in-house delivery, bringing fresh perspective from different sectors and expanding high-value professional networks.
Hear from our alumni
Programme Information
Structure
Enhancing Your Leadership Presence is a five-month modular programme, from February to May 2024. During four half-day and one full day modules, participants will focus on different aspects of leadership presence and hear from a range of expert speakers to enrich their understanding.
Participants will put their new skills into practice with presentation tasks and receive feedback and coaching from a panel of experts from the public, private and not-for-profit sectors.
Alongside the learning modules, participants will benefit from two personal coaching sessions with the programme facilitator to focus on their personal style and identify areas of development.
• What leaders should really do – craft their vision, build alignment and champion execution
• Develop new communication techniques to help you tell your unique story
• Learn the four behavioural styles the best leaders are able to employ
• Understand your leadership style better through the use of psychometrics
• Face-to-Face full day module
• Telling your leadership journey in high focus
• Connecting with larger groups
• Being authentic in the virtual world
• Delivering to a camera
• Leadership insights from a cross-sector guest speaker
• Panel presentations by participants
• Feedback and reflection
• Group coaching session
• Face-to-face with a celebratory lunch
• Gain insight and inspiration from engaging in dialogue
• Build trust and inclusive micro-behaviours
• Deal with questions and challenges mindfully in the moment
David Willis is a professional voice coach and body language expert, he has worked with major public and private sector organisations and coached actors at both the Royal Shakespeare Company and the Globe Theatre. He helps individuals and organisations to develop effective communication, influencing and relationship skills.
He has taught in many of London's leading drama schools as well as in Europe the United States and South East Asia. David is an accredited NLP Master Practitioner, an NLP Coach, he is a qualified Master in Group Dynamics and is a Cardiac Coherence Trainer. David won a top speaker award by Vistage, an International Chief Executives' organisation, for being inspiring and motivational. He is also one of the few people in the UK licenced to evaluate Benziger profiles.
David Willis is a partner with Cmt and has regularly worked with WIG on a variety of programmes (including the Future Leaders Programme and Enhancing Your Leadership Presence) as well as a range of Masterclasses over many years.
Edda is specialist voice and dialect coach having gained an MA in Voice Studies she trained actors and drama students before applying her skills to business. Edda has worked on live West End shows like 'Peggy Sue got Married' and 'Art'.
She works with Cmt as a voice and body language coach delivering communication and presentation skills training. She is also an accredited NLP Master Practitioner. Edda has published a book on dialects called 'How to do Accents' and developed an online accent app for the development of English accents around the world.
Edda is also a specialist communication and leadership trainer having honed her skills as a voice coach, where she is still employed at the highest level on television, in the theatre, as well as delivering high level leadership and communication skills training with cmt to the corporate and public sectors.
Her clients in the past year include Hiscox, Unipart, PwC, HMRC and Centrica.
Naomi is a Leadership Executive and coordinates a variety of WIG's leadership development interventions.
Of WIG's 6 open enrolment leadership programmes, Naomi works closely on the Step Up Step Across programme and the Enhancing your Leadership Presence programme, which bring together leaders from across the private, public, and not-for-profit sector.
She also produces bespoke leadership development services for WIG's members more broadly, namely leadership programmes and masterclasses.
Naomi holds a BA in Politics, Philosophy and Economics from the University of York. In her spare time, she enjoys outdoor activities, crafting and cooking.
Fees
WIG member fee: £4,300 +VAT
Non-member fee: £5,700 +VAT
Fees include two personal coaching sessions, membership of the WIG Alumni Network and all programme materials. If you are from a not-for-profit and would like to discuss fees please get in contact at [email protected]. 
WIG's leadership development programmes are delivered through a blend of virtual and face-to-face learning to ensure the safety and wellbeing of participants within a stimulating and collaborative learning environment.
Learn more about membership here.
How to apply
For more information and to apply for a place on Enhancing Your Leadership Presence, please get in touch with our leadership team using the 'Register your interest' link below. Or you can send in an application form straight away.
Application deadline: We inform applicants if they have been successful on our early and final deadline. We advise applying before the early deadline to have the best chance of securing a place. Our application review process ensures that we have a diverse mix of cross sector participants.
Early: 8 November 2023
Final: 20 December 2023
For Civil Service participants: WIG's leadership programmes are part of the Government Campus and Civil Service Learning and can be booked using the OTS (Off The Shelf) process via the helpdesk. Get in touch (via 'Register my interest' button below) if you need help or advice. Or use our Civil Service Learning link for further information.
Register your interest
Watch our taster session